Here is a complete guide on Keywords Research using the best tools in digital marketing. Keywords in Digital Marketing are the most essential elements of Search Engine Optimization. Keywords Research is a practice when the user is searching for something over the internet. When the user searches something over the internet the words or phrases it matches the content of your website appear on the Search Engine Result Page(SERP). Keywords Research is essential in Search Engine Optimization. The process of Keywords Research helps in finding out queries, their ranking difficulty, and their popularity. Let us look at the guide on Keywords Research using tools that are available online below.
Importance of Keywords Research in Search Engine Optimization
In Digital Marketing Keywords are the starting or the center of Search Engine Optimization. It is indispensable for you to make your website SEO optimized. SEO helps to rank website pages at a higher position in the search engine, making it effortless for people to find your website. They are the basic need for every business website as they direct traffic to your website.
Keywords Analysis help in regulating the kind of traffic one can direct on their website. Creating high-quality content helps in driving traffic to your website.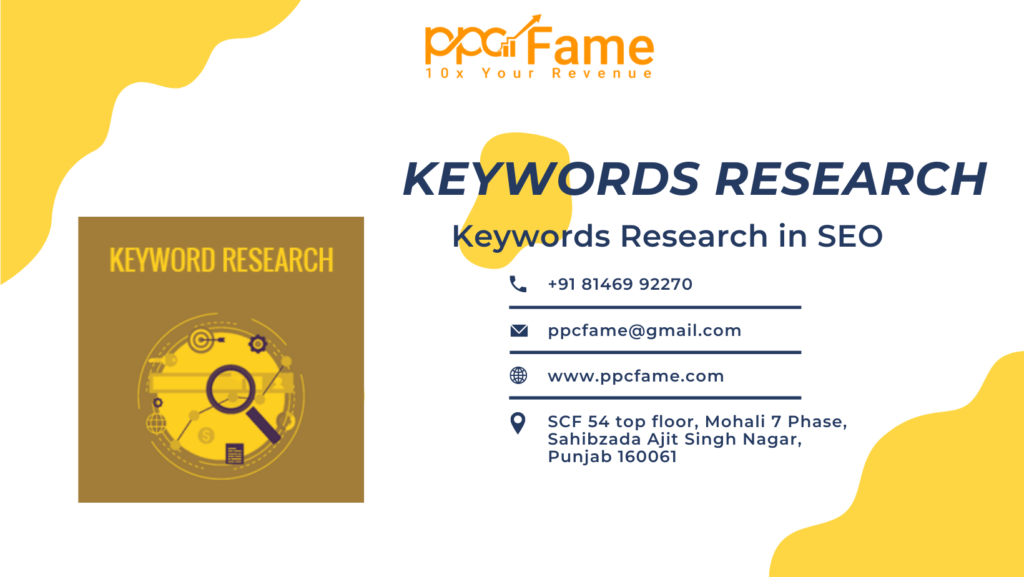 Following are The Different Types of Keywords in Keywords Research:
1. Long-Tail Keywords
Long Tail Keywords are Keyword phrases used in SEO that are more precise and are lengthy. Users are more likely to use them when they are about to purchase a product or service online. Used during a voice search made by a user. They consist of more than three words. They define objectives.
For instance, if you want to search for a bag, but you don't know what to search about, like the color of a bag, or different types of load, etc. If you search for, the best handmade bags, then these keywords are helpful.
2. Short Tail Keywords
They are keywords or search terms that are not more than three words. These keywords are broad, so it makes them less specific in comparison to long-tail keywords. Being comprehensive they are used to finding more extended versions of the search term entered the search bar of any search engine. Their overall nature helps them in having a high search volume. Highly competitive. As a result of this competition, keywords cost higher to rank and low conversion rates. The need for optimizing your website using short tail keywords is because they have the highest amount of searches monthly.
What are some Free Keywords Research Tools?
Following are the Tools Used for Keywords Research:-
1. Google search console
2. Ahrefs Keyword Planner
3. Google ads
4. SECockpitGoogle
5. Keyword Snatcher
6. Google Trends
7. Semrush
8. KWFinder
9. Serpstat
Definition of Keyword Research, Analysis, and Search Volume?
Search volume is data that manifests how many times a search has occurred for a particular keyword in a given timeframe. Monthly Data compilation. However, this helps the marketers to see how the keywords drive traffic throughout the year. Search volume is a fundamental part of driving new traffic to your website.
There is a significant role of seasonality in keyword search volume. Evergreen keywords are used persistently, regardless of the season. Targeting keywords that have better search volume is important. Targeting the keywords that users are not searching for, then they will not be able to find your content.
How to get Keyword Research Volume Data using APIs
1. SEMrush
SEMrush is an all-in-one SEO tool. One can access some tools freely, but you need to upgrade them to operate thoroughly. It helps in bettering the online user interface as well as providing digital marketing insights. Its tools and reports help marketers and provide services that are used to run, Search Engine Optimization(SEO), Pay Per Click(PPC), SMM(Social media marketing), Keywords Research, Competitive Research, PR Content marketing, and Campaign Management. To conclude, it helps in improving technical also known as on-page SEO and improves the web pages. SEMrush provides valuable keywords for campaigns.
When the user inputs a keyword, SEMrush searches a database of more than 10 million keywords, providing feedback such as keyword difficulty, search volume, and competitiveness.
2. Google Sheets
Google spreadsheet allows you to stock, maintain large amounts of data. Creating a keyword research google sheet. Make sure to create columns of keyword, keyword difficulty, and volume. Go through the sheet and find out the main keywords and based on the search volume difficulty, keywords with high search volume and low or medium difficulty are good to target. Similarly, there is also an option of using Regex match to find out question-type keywords, like how, when, what, and where, etc.
Define Keyword Density in Keywords Research?
Keyword density is the basic perception of Search Engine Optimization. Moreover, it has a direct impact on website content and its visibility on the search engine result page. It refers to the number of times a keyword appears on a given webpage or within the content percentage of the overall word count. Known as keyword frequency.
How is the Keyword Density Formula Calculated in Keyword Analysis?
Calculated by dividing the number of times a specific keyword is occurring within a webpage by the total number of words on the page. Above all, it is the keyword density of that webpage.
Definition of Keyword Stuffing?
Keyword stuffing is a deceitful SEO technique. In other words, it is a practice where people attempt to gain an unfair rank advantage in search engines. Considered as webspam or spamdexing.
Marketers try to fill the webpage with as many keywords as possible. The keywords appear in different areas including content, or separate lists. Therefore it can result in penalizing the website, and it will not appear on the Search engine result page.
Definition of Keyword Proximity?
Keyword proximity refers to the distance between keywords, or how close are keywords within the section of text. It attributes to the closeness of the keywords. Matter's for Search Engine Optimization. Calculation is done by counting the number of words between the keyword of the phrase.
Above all, it forms an excellent strategy for optimizing a page to target multi-word keywords.
What is Keyword Length?
Optimizing posts and blogs with Keywords Research or key phrases makes it less burdensome for people to find your content online. An important aspect of the keyphrase- that is its length.
What is the Target of the Key Phrase in Keyword Research?
The main objective of a keyword, to rank a page on the search engine result page. The reason behind naming it a key phrase is that it usually consists of a few words. For example, if you want to post or blog to rank for "pets food" you have to optimize your blog for that term. The smaller the distance between a search term individual keywords, the greater will its relevance from the search engine viewpoint.
What does Keyword Difficulty Mean in Digital Marketing?
The range of keyword difficulty is from 0 to 100. If the score is lower that means the keyword is easier to rank, while on the contrary higher score indicates a more difficult keyword. A higher score makes it difficult to rank for the target keyword, whereas a lower score helps in better ranking for the target keyword. To cite an example:
A keyword X has a search volume of 100 and a difficulty of 15.
Another keyword Y has a search volume of 1000 and a difficulty of 75
Likewise, people would target keyword B because it has 10x of search volume, if a website is small ranking would be nearly impossible. Of the 1000 searches done, you would likely get 0 clicks because you are not ranking anywhere close to the top 40 results.
To conclude, this guide on Keywords Analysis helps the user in understanding keywords' importance and uses in Digital Marketing.